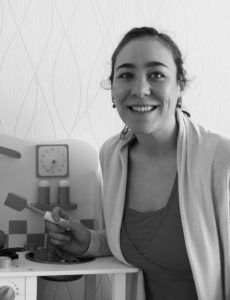 Meet Dr Kris Bevelander from the Radboud University in the Netherlands. Kris is the first of our six 6 Research Supervisors for 2017-18. Her research focuses on social decision-making processes in eating behaviour and physical activity. She works on this alongside the development and use of technology for research and health-related purposes.
Project description

The persons surrounding us can be a powerful marker as well as a tool for our consumption behavior. For example, we look at food choices of others to determine our norms of what we consider to be appropriate eating behavior. However, the extent to which people are susceptible to social influence on eating varies. Pregnancy provides women a reason to modify diets, for better or for worse. Pregnant women also perceive themselves and others differently due to changing body figure and future role as mother. In this project, we will focus on nutritional social norms among pregnant and nursing mothers, examining whether norm-based message framing can be used to stimulate healthy eating decisions.
The remaining five Supervisors will be announced shortly.
Stay tuned for more information!